Right to
choose
At Renault, we recognise that you have the right to choose to seek alternative service outlets, maintenance and mechanical repair work during the In-Warranty period. As a Renault owner, you are also allowed to fit Original or Non-Original spare parts for your car at a service provider of your choice, regardless of whether that service provider is an Approved Dealer or an Independent Service Provider.

Using an Authorised Renault Dealer that guarantees the use of genuine Renault parts ensures your peace of mind.

Authorised Renault Dealers service your car using special Renault equipment and tools operated by Renault certified technicians who aim to ensure that your car is operating to manufacturers' standards.

Our specialist training encompasses not only the service technicians but service managers, advisors and support staff as well. This means that those working on your car have hands-on knowledge of how these cars perform and how or when to make necessary repairs and services.

Benefit from genuine Renault parts that are rigorously tested to meet high quality, safety and performance standards, fitted by our team of experts.

Using Independent Service Providers

Where you may have insurance cover during the in-warranty period, it is important to note that your vehicle's body repairs will be undertaken by an Approved Renault Repairer when choosing an Independent Service Provider outside of the Renault dealership network.

There is no obligation on the manufacturer of your vehicle to pay for any service and/or maintenance work undertaken by the ISP when you choose an ISP during your In-Warranty period.

Should there be any damage to your vehicle from the fitment of spare parts by an ISP, there is a risk that certain provisions in your warranty will be voided.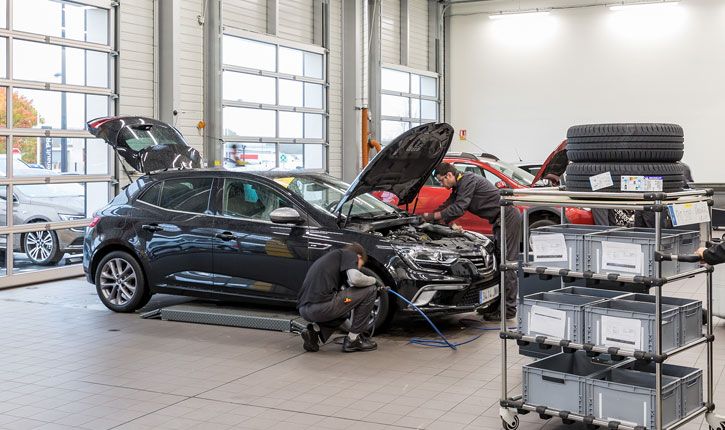 Any In-Warranty work undertaken by ISPs should be recorded in your vehicle's service book or equivalent record-keeper by the ISP.

When working with an ISP, they are required to clearly and explicitly disclose to you the risk of damage that could arise from their work which may potentially void certain obligations contained within your vehicle's warranty.

Damage caused by an ISP to your vehicle will risk that certain provisions in your warranty will be voided. However, other provisions of the warranty may remain severable and enforceable.
book a service